Our Product
BANKS / LENDERS / CLOSING AGENTS
Unmatched loan protection that you deserve. And borrowers expect.
Secure Insight has proven to be the most comprehensive, easy-to-use, cost- effective closing agent verification process in the industry.
All Points Checked. All Lenders Protected. 24/7/365.
Secure Insight runs 120 risk check points against these seven key risk areas in the evaluation of closing agents and protection of funds:



1. We verify Identity

Secure Insight checks for Social Security number fraud and identity manipulation that could be hiding license and criminal activity histories.




2. We verify all Licenses

Secure Insight confirms all professional licenses, leading to information about any serious license disciplinary issues directly related to real estate settlement responsibilities.




3. We verify Backgrounds

Secure Insight ensures that agents have not been named in active fraud cases, are not subject to criminal indictments and convictions, and do not face significant financial issues due to IRS tax liens and large civil judgments that create actual and potential risk issues.




4. We verify Insurance

We raise a flag if lenders are working with uninsured and underinsured agents, or if we discover altered certificates of insurance with enhanced coverage limits and changed expiration dates. At the same time, we notify registered closing agents when their insurance renewal date is nearing.




5. We verify Trust Account Details

Secure Insight alerts lenders if we find commingled accounts (trust and business in same account), personal accounts being used as trust accounts, and trust account mismanagement (overdrafts and fraud investigations).




6. We Verify Internal Data Privacy & Security Controls

Some small businesses aren't aware of federally required data privacy and security controls compliance measures. Others intentionally bypass them. Secure Insight ensures they are in place with legally binding certifications of compliance.




7. We verify Cyber Coverage & eClosing Capabilities

Recently, Secure Insight enhanced its verification process to meet current lender needs and expectations. We request and verify agent cyber insurance coverage and also verify an agent's ability to conduct eClosings as a qualified eClosing specialist or licensed eNotary or Remote Online Notary. In doing so we are the first and only company gathering data of this kind for the benefit of lenders nationwide seeking alternative methods of closing loans in the current COVID-19 restrictive contact environment.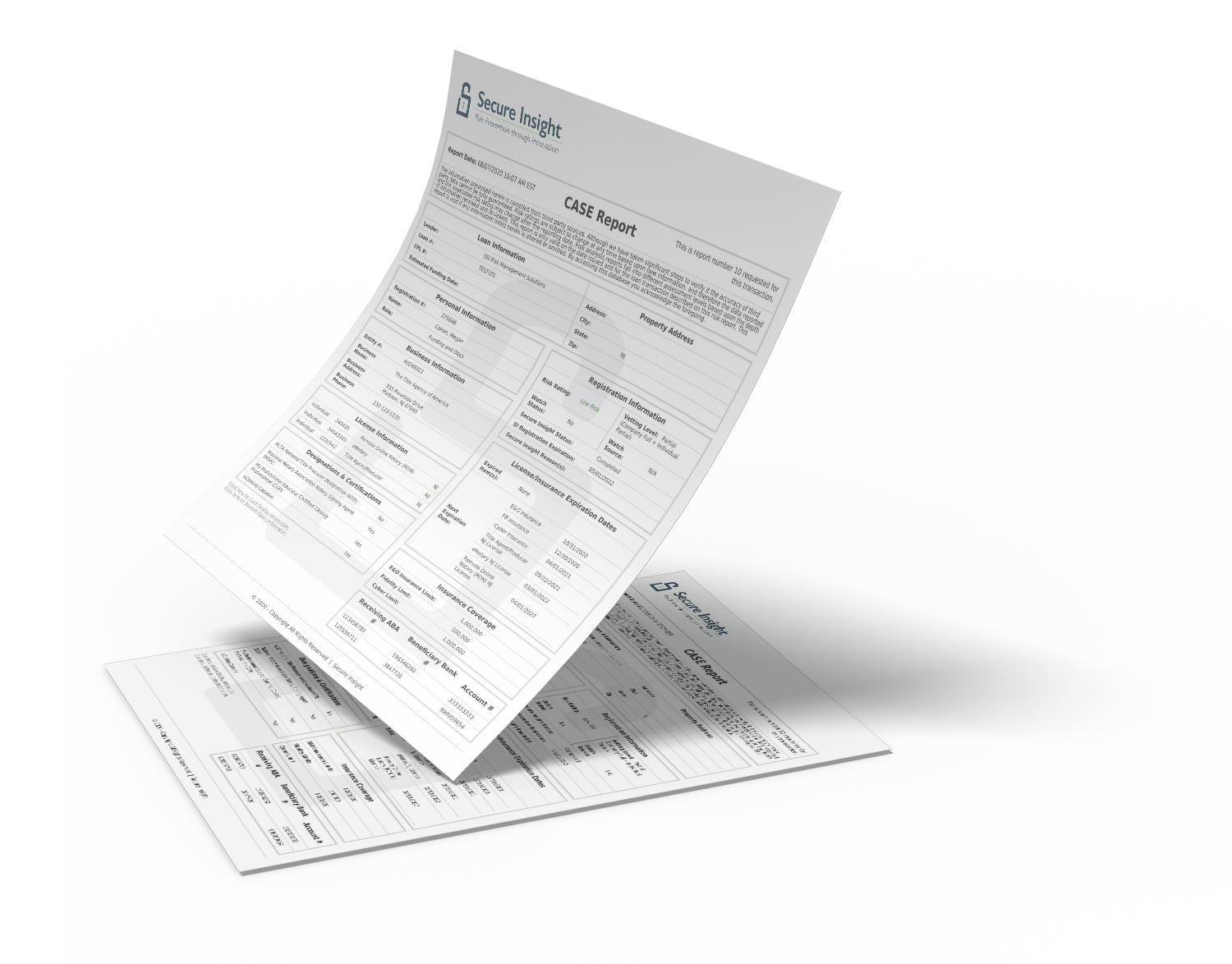 Output CASE™ Report as a single page PDF to be added directly into a loan file.
Trust. Security. Reliability.
Using the Secure Insight web-based platform is easy. Closing agent data is searchable by lender and can be instantly output as a CASE™ Report, accessible 24/7/365. CASE™ Report evaluations include a Secure Insight risk assessment rating.
---
Quick Check
™

– Add-on for wholesale lenders and warehouse banks

Quick Check™ is a plug-in created specifically for wholesale lenders and warehouse banks as a quality control tool to complement existing processes. Quick Check™ provides easy-to-read reports generated in one business day or less. Each report has a shelf life you decide, offered on a transaction basis or given a 60-90-120 day life based on each verified closing agent. Ask a Secure Insight representative for more information.